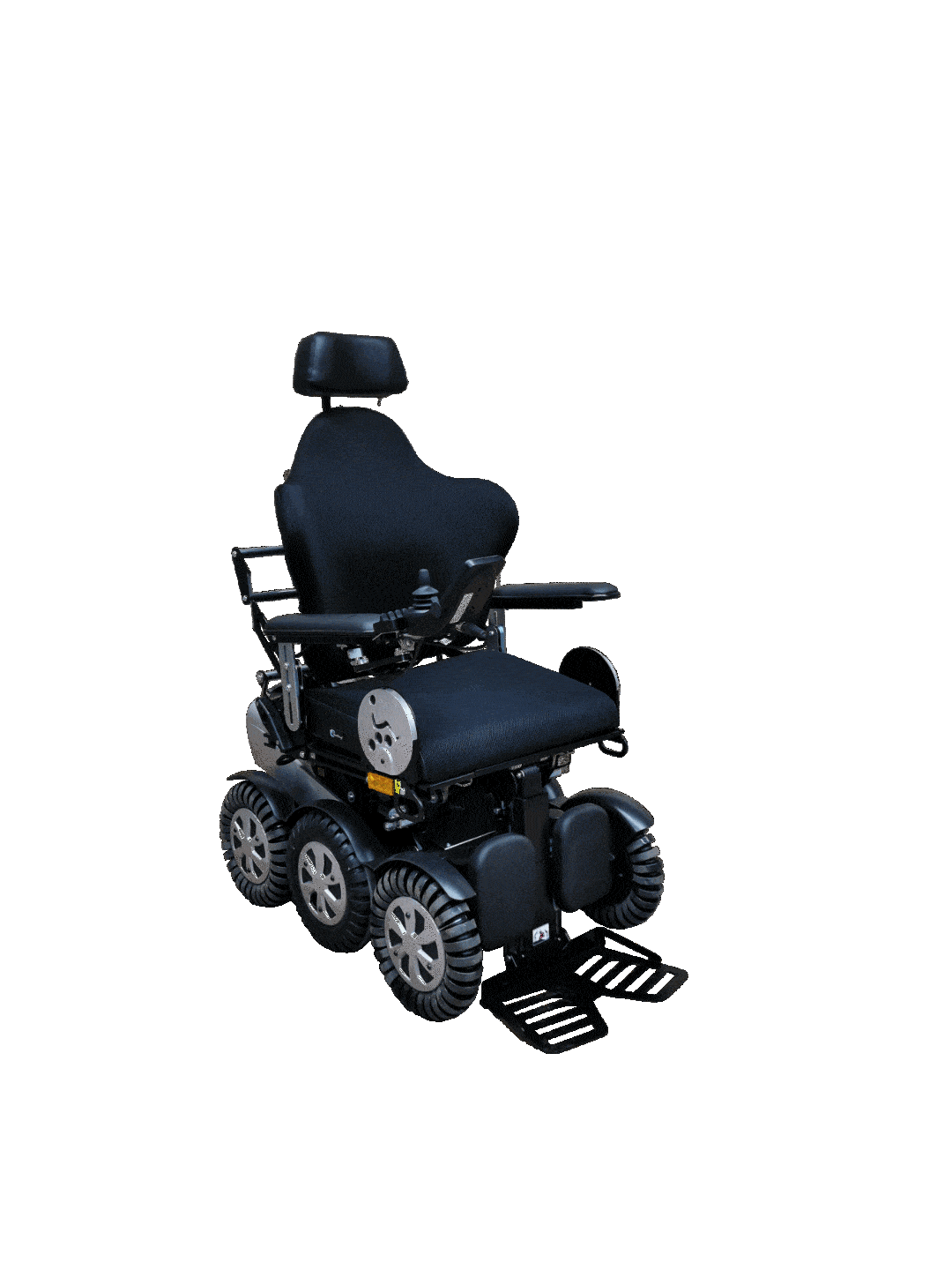 Dimensions Magix II
The Magix II electric wheelchair is ultra-compact to adapt to the needs of daily life indoors and outdoors.
Width of rolling base 58 cm
Length of folded footrest 91 cm
Seat height 40 / 80 cm (under cushion)
Seat depth 250 / 550 cm
Seat width 250 / 290 cm (between armrests)
Max. user weight 140 kg
Minimum weight of chair with battery 132 kg
MOTOR BASE
The Magix II is a 6-wheel all-wheel drive electric wheelchair.
Electric lift 400 mm to 800 mm
Crossing up to 15 cm*.
Motorization 6 km/h and 10km/h
Available in 4 standard colors (white, red, blue and grey)
Lithium battery guaranteed for 3 years
LED lighting kit
Clothes guard, thigh brace
BACK AND SEAT
Our wide choice of seat and back cushions allows you to customize your choice according to your needs.
Material, fabric or custom size, we offer several solutions for your comfort.
Seat depth 250 to 550 mm
Seat width 250 to 590 mm
Electric backrest tilt** 90° to 160
Electric seat tilt** -10° to +37
V Track backrest available on our order forms
LEG REST
Monopallet footrest adjustable in height
Separate pallet with 2 fixed arms
Monopallet on central electric leg rest with compensation, inclination from 90° to 165°.
Separate pallet with 2 separate electrically compensated leg rest mechanisms
Several sizes of calf rests
EVOLUTIONARY ELECTRONICS
You can choose which main joystick to install on the retractable pentograph of your chair.
R-Net control system
Led joystick without display
Manipulator CJSM1 or CJSM2 (color LCD screen, infrared and Bluetooth)
Companion control
Cylinder control module
USB charger and R-Net multi-socket kit
Special controls on request
SHELVES AND
HEADREST
Armrests, liftable with compensation
Standard armrest in molded polyurethane
Comfort armrest
Comfort Honeycomb ventilated
Headrest always available in large or small version
Molded polyurethane
Comfort cushion
Flexible
CUSTOMIZATIONS
Whether it's practical equipment or aesthetic customization, you can make your Magix II unique.
Mudguards for the 6 wheels
Central wheels with puncture-proof insert
Customized RAL color
Customizable back plate with message
Seat belt, automotive type buckle
4-point harness
Retractable shelf 600 x 450 mm
Backrest folding on the seat