Electric wheelchair
Magix 2
The Magix II indoor and outdoor electric wheelchair adapts to your daily life. Its ultra-compact size and innovative 6-wheel drive system allow it to go to places that are considered inaccessible.
Our advanced technology allows it to be as comfortable in narrow passages and corridors as it is behind the wheel of an adapted car or under a table.
The Magix II is also an all-terrain wheelchair, capable of negotiating slopes, wooded, paved and snow-covered roads with comfort and safety.
Its crossing capacity allows you to go up on sidewalks up to 15cm in all independence.
Magix 2 electric wheelchair
The best of French manufacturing for the independence and mobility of our users. Our adult and child electric wheelchair accompanies you on a daily basis, indoors and outdoors. Escape and freedom is no longer a dream, it is Magix.
Dimensions of Magix 2 electric wheelchair
Width of rolling base 58 cm /23 in
Length of folded footrest 91 cm / 36 in
Seat height 40 – 80 cm /

15.7 – 31 in (under cushion)

Seat depth 250 –  550 mm

/ 9.8 – 21.6 in

Seat width 250 – 560 mm

/ 9.8 – 23.2 in  (between armrests)

Max. user weight 140 kg

/ 308 lbs

Min. weight of chair with battery 132 kg

/ 291 lbs

Minimum turning radius 520 mm / 20,4 in
Indoor
Ultra-compact electric wheelchair
Outdoor
All-path electric wheelchair
Compact
Width of rolling base max. 58 cm
Customizable
Option / equipment / color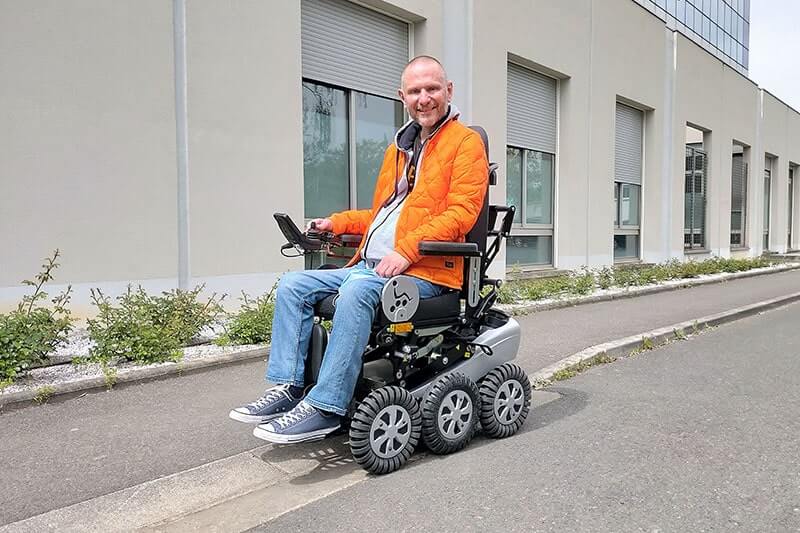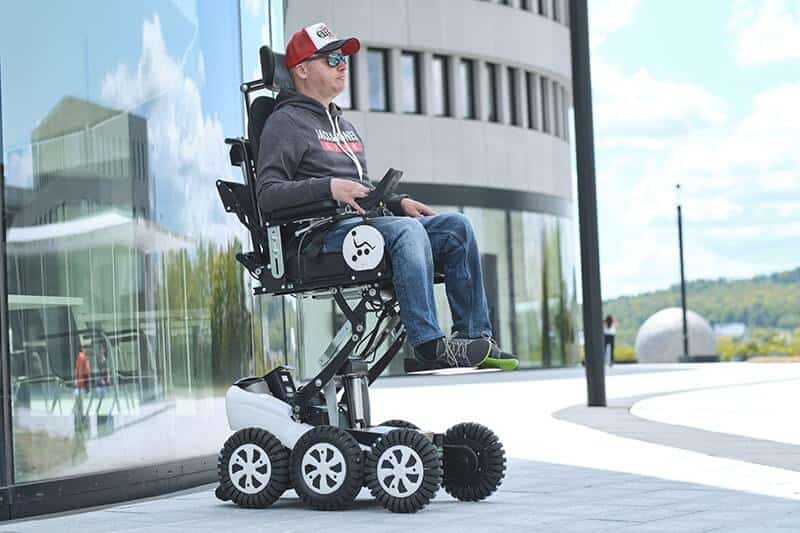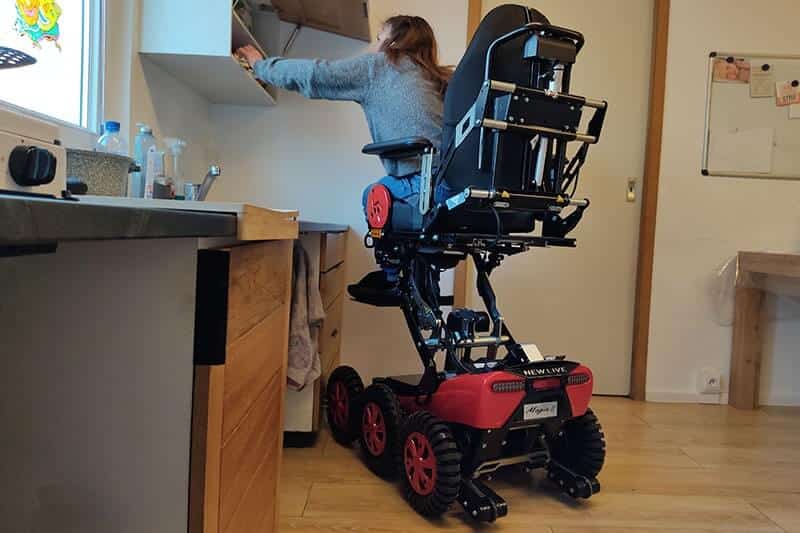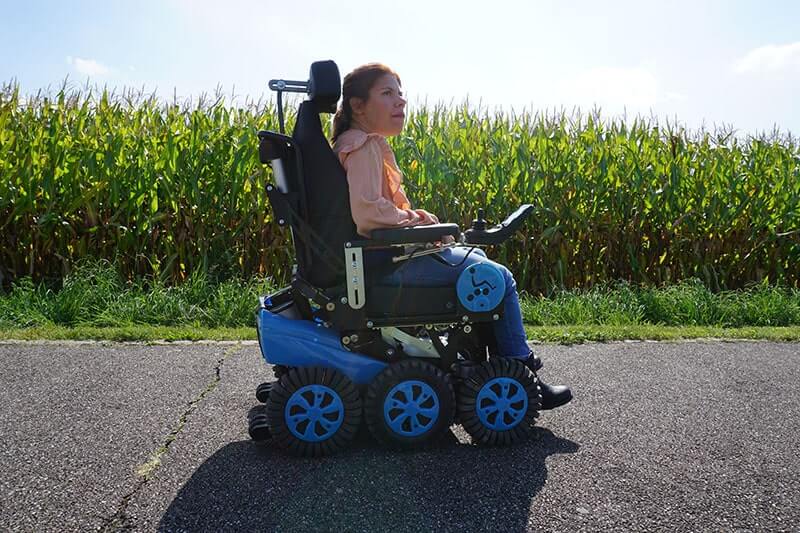 Drive base
The Magix II is a 6-wheel all-wheel drive electric wheelchair
Electric lift 400 mm to 800 mm
Crossing up to 15 cm*.
Motorization 6 km/h and 10km/h
Available in 4 standard colors (white, red, blue and grey)
Lithium battery guaranteed for 3 years
LED lighting kit
Clothes guard, thigh brace
Belt of basin, buckle type automobile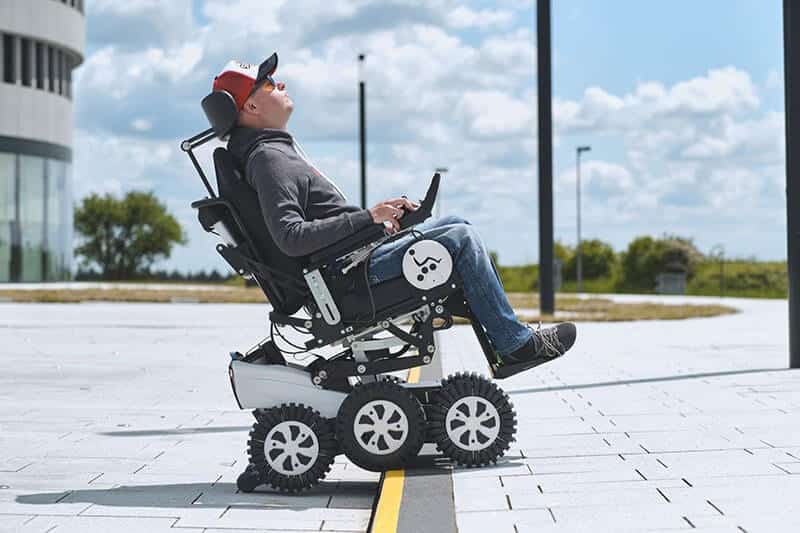 Backrest and seat
Customize the cushions of your electric wheelchair
Material, fabric or custom size, we offer several solutions for your comfort.
Electric backrest tilt** 90° to 160
Electric seat tilt** -10° to +37
V-Track backrest available on our order forms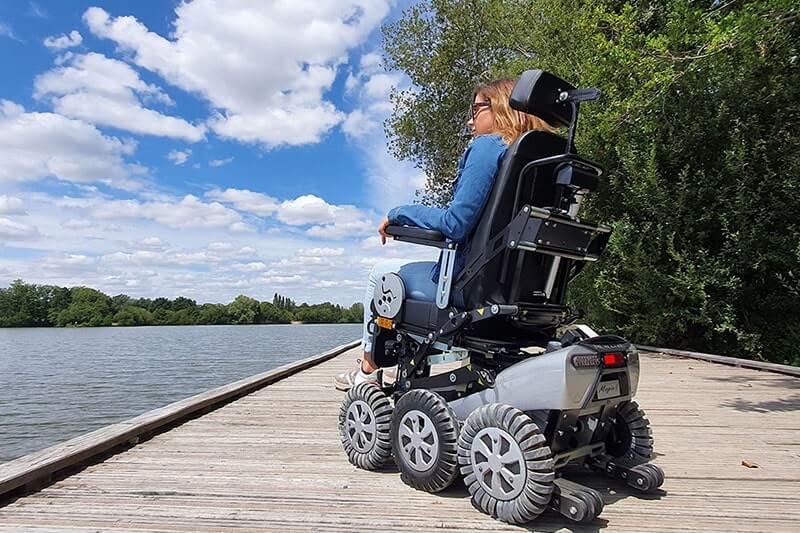 Leg rests
Leg rests available on electric wheelchairs
Single pallet footrest with adjustable height
Separate pallet with 2 fixed arms
Monopallet on central electric leg rest with compensation, inclination from 90° to 165
Separate pallet with 2 separate electrically compensated leg rest mechanisms
Several sizes of calf rests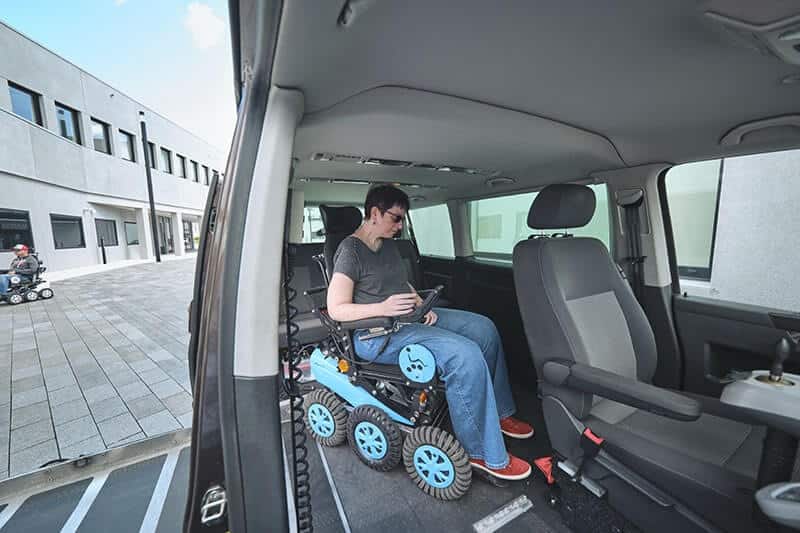 Evolving electronics
Electronic controls and equipment available on the electric wheelchair
R-Net control system
Led manipulator without screen
CJSM1 or CJSM2 joystick (color LCD screen, infrared and Bluetooth)
Companion control
Cylinder control module
USB charger and R-Net multi-socket kit
Special controls on request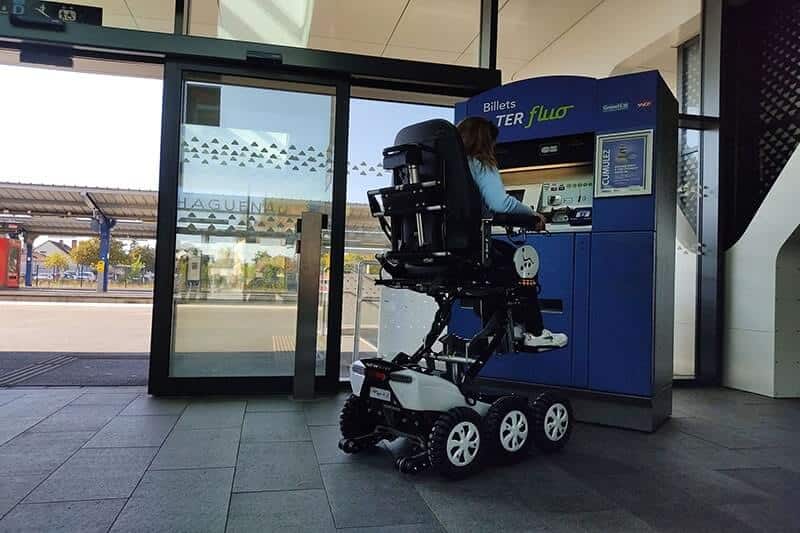 Armrests and
headrest
Armrests, liftable with compensation
Standard armrest in molded polyurethane
Comfort armrest
Honeycomb comfort
Headrest always available in large or small version
Molded polyurethane
Comfort cushion
Flexible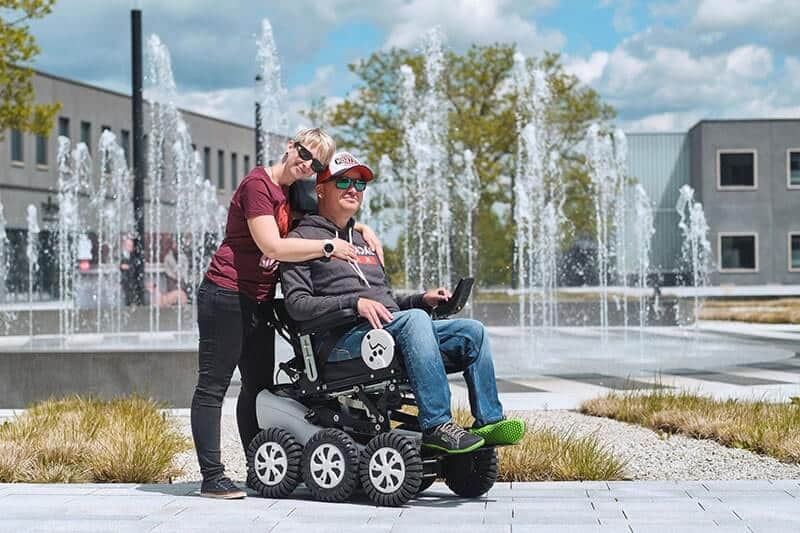 Customization
The Magix II is a customizable electric wheelchair
Mudguards for the 6 wheels
Central wheels with puncture proof insert
Custom RAL color
Customizable message back plate
4-point harness
Retractable shelf 600 x 450 mm
Folding of the backrest on the seat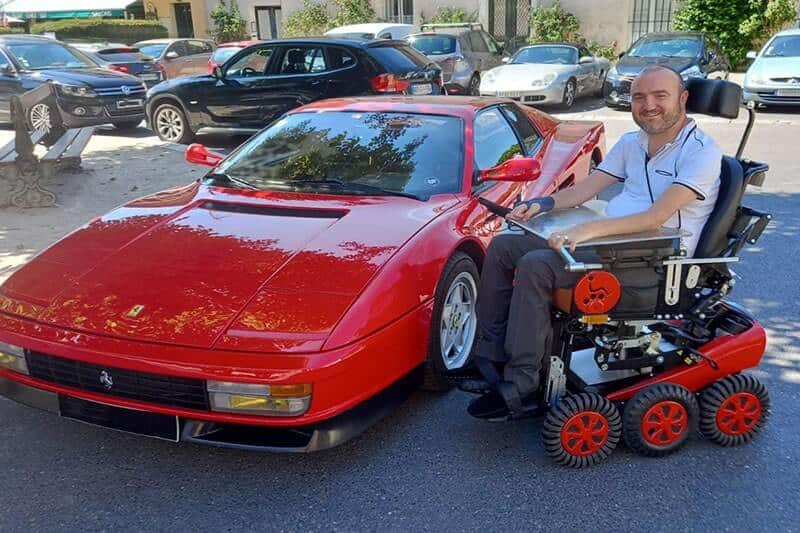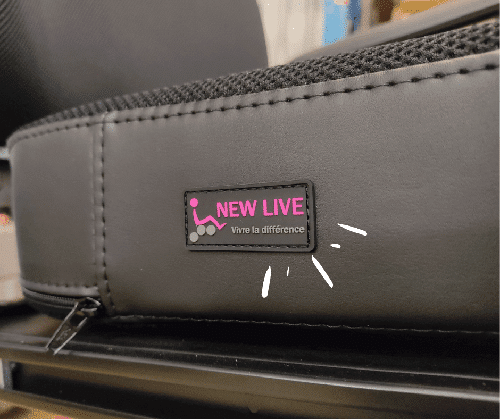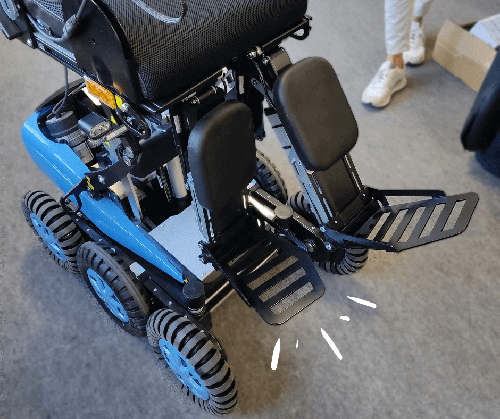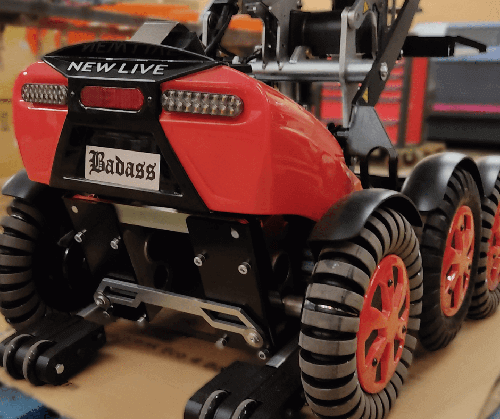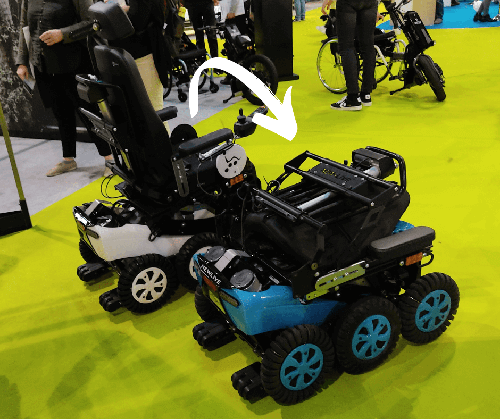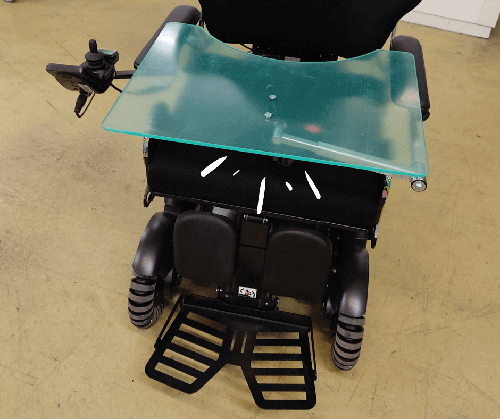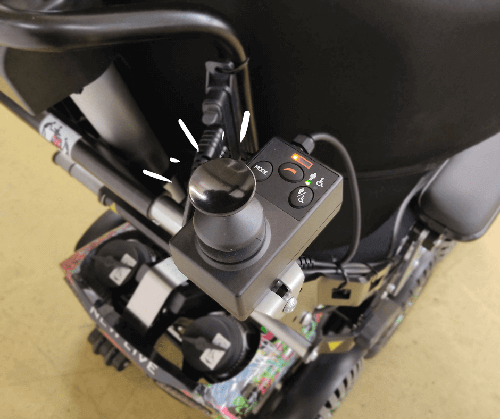 Frequently asked questions
Magix 2 electric wheelchair
What are the differences between the Magix electric wheelchair and the Magix II?
Comfort with the addition of suspensions, new cushion and backrest
Lithium battery guaranteed for 3 years
More compact, 58cm wide frame (-2cm)
Simplified adjustments
New design
And much more
Is the Magix II an all-terrain electric wheelchair?
The Magix II is an all-terrain electric wheelchair.
It can travel on wooded, paved, steep or snowy trails.
It will not roll in sand, high grass, woods or mud.
Is the Magix 2 a suitable electric wheelchair for children?
The Magix 2 is an evolving electric wheelchair. Thanks to its numerous adjustments, it can be adapted to the needs of children and adults. It will be able to accompany very well a child during its growth for example.
What are the advantages of the lithium battery for an electric wheelchair?
The possibility of offering a 3 year warranty
Full charge in 7h30
Interruption of charge possible (as for a cell phone)
Partial charge allowed (charging during the day to increase autonomy)
These batteries are less sensitive and generate less after-sales intervention
1 lithium battery is equivalent to 2 batteries 12v 80 Ah lead
Average autonomy of 30km
Is the Magix electric wheelchair still available for sale?
The Magix is no longer available for sale. All new Magix orders placed after 01/06/2021 will be switched to the Magix II.
Who do I contact if I have questions about ordering my Magix II electric wheelchair?
If you have any questions about ordering your Magix 2 power wheelchair, please contact the dealer from whom your NEW LIVE product was ordered.
Who do I contact if I have a problem with my Magix II?
If you have any questions or problems with a NEW LIVE product, please contact the dealer from whom the product was purchased. We are still available to help you if needed.
Where can I find the user manual for the first Magix?